Coaching is a type of membership site that is growing in popularity as the world dives onto the internet. The coaching model has become one of the fastest growing and most successful membership sites over the last couple of years and it is wonderful to see. 
Coaches can now teach one to many instead of one to one. 
That's a game changer for sure.
Is it time for you to create a membership site that brings in recurring revenue month after month?
What is a coaching membership website?
A coaching membership website is a platform, usually hosted on WordPress allows coaches to take their business online with a coaching program. Every coach has their own special formula to help their coaching clients, a slightly different way of doing things. 
As a coach you need to consider the following aspects of your membership site:
How do you usually communicate with your coaching clients?

Can you convert your coaching into an online course?

Would your membership benefit from an online community that allows other members to help each other?

Can you convert your coaching style to teach one to many?

What are your competitors charging?

Will you need to create content for your membership site?
Once you've considered all of those possibilities building your membership site shouldn't be as daunting.
Don't let those questions put you off, we're here to help and guide you through the process whenever possible.
Coaching Membership site examples
Key5 Basketball Coaching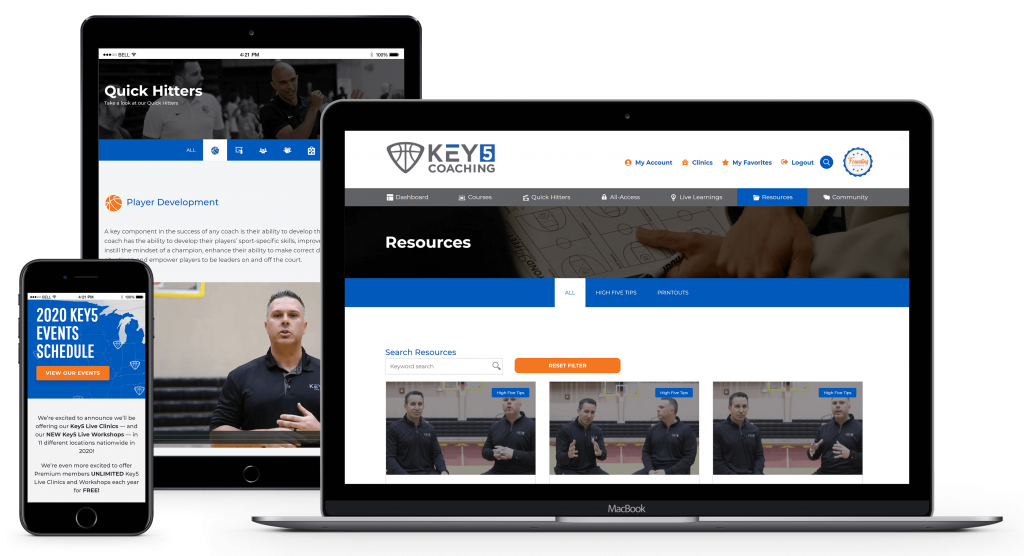 Key5 coaching have spent the last 28 years teaching players how to play basketball and training coaches to unlock their teams potential. They wanted to take their offering online with a membership site.
Key5 Coaching is one of our biggest clients, they coach worldwide and have truly build an online business to be reckoned with.
Their site offers: courses, resources, exclusive members only events, live learning calls to teach one to many and a bustling online community all for one simple monthly payment.
Click here to view our portfolio piece on their website
Click here to view their website
Gumption Coaching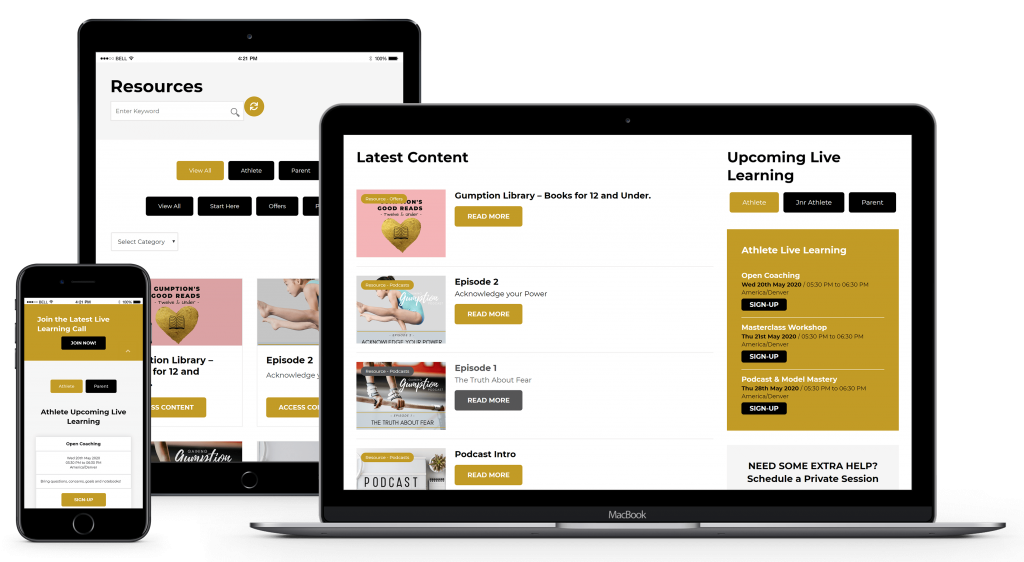 Gumption Coaching coaches young athletes in mindset training. Makenna, the owner of Gumption coaching, believes the sport of gymnastics, coupled with powerful mindset tools, is the perfect platform for growth, achievement and fun!
The Gumption Coaching Platform delivers Live Calls, a podcast, Sub accounts and is run off of MemberPress with ActiveCampaign integration to fully lockdown the members area and give greater content control to the owners 
Click here to view our portfolio piece on their website
Click here to view their website
Nick Ruddock Gymnastics Growth Academy
Nick Ruddocks membership and mentorship programme has been specifically designed for gymnastics coaches who are looking to grow and develop into being the best version of themselves possible.
The main goals for this project were to communicate Nick's message with clarity, so his ideal customer self-identifies, position and develop him as an authority figure within his industry.
Nick's coaching membership site charges a monthly fee to his members and in return they get access to online courses and resources to help them develop into the best coach they can be… who'd of thought? A coaching membership website for coaches!
Click here to view our portfolio piece on their website
Click here to view their website
What's the biggest take away from our examples of coaching membership sites? 
They are all slightly different but have some very similar features.
What type of content for your Membership site?
It's not our job to tell you what sort of content you should put onto your membership website. The examples above should give you a rough idea of what is going to be expected of you from your members. 
We've also just done some of your competitor research for you! Isn't that nice of us?
The basics of content should be as follows
Live Learnings (Calls where members can interact with you and other people on your site, this is usually done through zoom)

Resources, although not necessary do sweeten the pot for members joining

Online communities

Members only events or exclusive discount to events if you host them

Online courses, people come to expect online courses from a membership website but a course could be added after you've launched as a scalability option.
If you're unsure if your membership website should have a course feel free to read our other blog post on it by clicking here
Which membership model should a coach use?
There are two main membership models that are floating around the internet at the moment, Evergreen and Open & Closed.
We usually recommend that when you first start a membership you use the Evergreen Membership model. What that means is once you've launched your membership it's always open to new people or in this case coaching clients to join. The evergreen model is great for predictable, reliable income each and every month.
Open & Closed memberships are a little more advanced to set up and operate. We usually recommend these types of memberships to be used sparingly and with caution, they work well when executed correctly. 
The Open & Closed membership is only open to new members once every couple of months. This creates an air of exclusivity for your membership however it doesn't allow you to predict your income like a Evergreen membership would.
Other considerations
Starting a membership can seem like a daunting task at the best of times, that doesn't mean you shouldn't start one though. There are lots of things to consider when starting a membership. Here are a couple more questions you should ask yourself before your membership journey begins.
Which payment gateway will you use? Stripe or PayPal?

Do you have an existing email list ready to message to join your membership?

Which Membership plugin will you use? ActiveMember 360 or MemberPress

Are you going to use a hosted platform like Kajabi to get started before creating your own custom membership website?

Do you get the technical side of things or end up with a headache after being at your computer for a while?
I really hope this article has helped you decide on a coaching membership site, if you're interested in building a custom, scalable membership website consider MemberLab for your services! Book a demo call to find out more about what we can offer.