It might be a mystery as to how much a custom membership site is to have built. Will it be in the hundreds or the thousands? 
This will vary on numerous factors – including who you have hired to create a website for you.
It's no secret that a digital agency like MemberLab will charge more for a custom membership site than a freelancer will – this is because of the operational costs, including the payment of staff that they have to consider. 
With a freelancer, however, they will, of course, have certain costs (such as hosting the domain) but for the most part, the price is made up of their labour. 
Lets get on with it and answer your questions: How Much Does a Custom Membership Site Cost to Have Built
What Are the Typical Costs of Having a Custom Membership site Built For You? 
$$$
A membership website is tough to create as it's made up of several parts; and as well as the technical considerations that are required to get it up and running, there's the cost of maintaining it throughout its lifetime. 
While a well-maintained and functional membership website will quickly make up the costs associated with it's startup, it's helpful to know what typical costs you need to budget for from the outset.
In this blog post, we'll take you through these costs, along with the estimated figures that you can expect.
At a bare minimum, your website will require the following:
Website hosting 
A domain (i.e. your website's name)
A membership plugin
A payment processor
High-quality website design – from the logo to the ability to offer multiple membership levels
 An experienced developer 
How Much Does a Domain Cost?
$
For your membership website, you'll require a domain name.
Showcasing your brand, this will have to be memorable and easy to input. However, it might initially seem challenging to find a unique domain name – as many domains are already taken.
 Of course, you can offer to buy a domain name off of them, but be prepared to pay thousands for it.
Plus, the simpler it is, the more expensive it is. You'll also want to consider the cost of any other extensions you want to add – such as .com, .net or even a personal favourite . ninja. Many businesses do this as they want to stop others around the world from trading under their name. 
So how much can it cost?
The cheapest option is to create your membership website as a subdomain of your existing website. This will be free – meaning that you can spend your cash on other elements of the site, such as adding unique functionality features or building a fully fledged community forum. 
If you use a website such as Godaddy or 123-Reg, you can expect to pay between $5-$10 per year for your domain.They are a budget-friendly alternative that are a good idea for those who are just starting out. Similarly, if you are creating your website through WordPress, you can acquire a domain for approx. $14.99 per year – another affordable option.
If you're looking for multiple versions of your domain, however, you can expect a higher cost for your domain name. This can cost between $20-$40. It's a suitable choice for businesses looking to expand their reach to a wider audience. 
How Much Does Custom Membership Site Hosting Cost?
$$
In order for your membership site to be live, it needs a location – which is where website hosting comes in. When it comes to a membership website, you need multiple people across several devices to access it at once, so quality hosting should be one of your top priorities. 
If you cut corners and opt for the cheapest option of website hosting, you'll end up running into issues in the future the site will go down and then no one will be able to use it. This can become a problem especially as and when the website starts to grow in popularity with more and more members within its database. 
If you're trying to stick to a budget, you might look at shared hosting – which will only set you back between $3 – $10 a month. And while this is a worthy option at first, as your website grows in numbers, the server might start to slow down. A huge risk, it's something that you will want to consider at the start of the process. Did you know, it takes just 3 seconds for someone to decide if they're going to stay on a webpage or not
An alternative to this is opting for VPS (Virtual Private Server) hosting. Although this can cost you anywhere from $30 up to $150 per month for a quality VPS, you'll find that you can acquire more customers and keep them engaged as your site will perform better overall. 
You will also have the option of investing in a dedicated server. On the high end of the scale, this can set you back between $250 and $400 depending on which service you go with. A common choice for larger businesses, it's ideal if you're expecting your membership website to grow continuously.
How Much Does a Membership Plugin Cost?
$$
For your website to be engaging and modern, you will require several plugins. An example of a typical plugin used across millions of websites is Adobe Flash Player. Without this, you wouldn't be able to embed content, and customers wouldn't be able to interact with any video content. 
On a membership site, plugins are essential. Whether you use it for the above, to integrate a payment processor, to access the content or manage the subscriptions, it's a worthy investment from the start of the project. 
It's important to know that the majority of high-quality membership plugins available require a paid license. And even though there are free versions out there (e.g BuddyPress and bbPress), their capabilities are limited.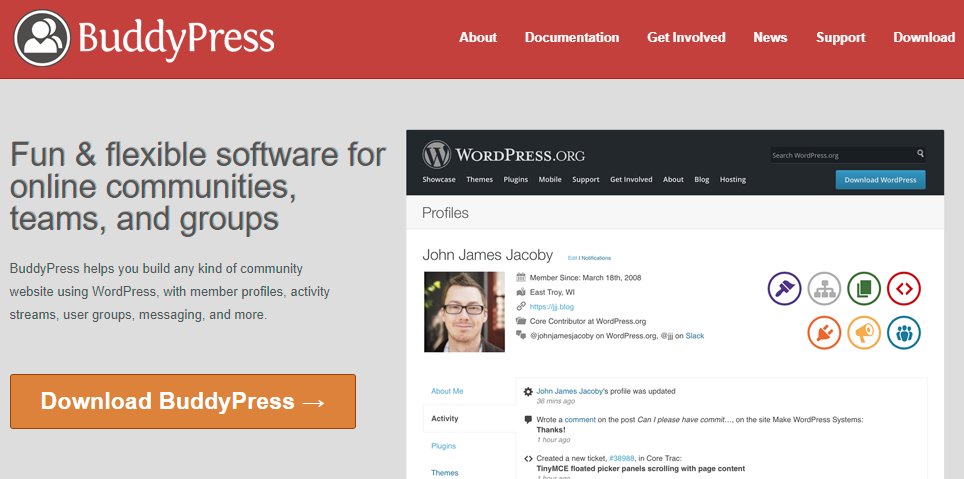 If you're creating your custom membership site on WordPress, it's good to know that most of the paid plugins require an annual license. The most popular plugins available for WordPress are the following:
IPBoard: $175 upfront and $25 every 6 months.
Xenforo: $140 upfront and $40 per year.
MemberPress: $150-$200 annually for a premium membership plugin or $129 per year for a single site license. 
You can find our MemberPress deep dive review here.
The latter tends to be the most popular option due to the features it offers. Easy to use, it will help you to transform your existing website into a membership site quickly. To effectively install this, you will have to input your payment gateway details, list your products and start to send invites to your customers to join.
The most popular features it has to offer are:
The ability to restrict access to individual pages, files or posts across your site.

It can integrate with numerous email marketing platforms such as MailChimp and active campaigns.

Built-in support for any payment gateway you've integrated – such as PayPal or Braintree.

The ability to create pricing pages quickly with several templates to choose from.
Whether you are making your website through WordPress or another CMS, there are also higher-end plugin options. Costing thousands, it's an entirely custom solution – which is only necessary if you're running a large, profitable business. 
Check out our post "5 common features of a WordPress Membership website" for more information on things that you must include
What Payment Processors Can You Choose From?
$
When creating a custom membership site, you will want to integrate a high-quality payment processor, Ensuring that each of your customers has an exceptional experience each time that they are on your website. 
The checkout process needs to be as easy as possible. There are dozens of options to choose from when it comes to payment gateways. But the top three popular ones are the following:
PayPal – perhaps the most renowned payment processor, it's favoured by millions of membership companies and other businesses alike globally. Because of its trusted name and simplicity, it's an excellent choice for your site. 
How much does it cost? PayPal will charge a $0.30 transaction fee and a 2.9% fee each time someone buys a membership. 
Stripe – able to integrate with most platforms. They will work alongside the developers to make sure that the integration is as smooth as possible. With the ability to offer subscriptions, users can make recurring payments easily – a must for many membership sites. 
How much does it cost? Similarly to PayPal, Stripe will charge a $0.30 transaction fee and a 2.9% fee each time someone buys a membership. 
Braintree – although PayPal recently acquired them, they are still a 'standalone' payment processor. Allowing users to pay via Android, PayPal, Apple Pay and more, the flexibility is favoured by many businesses who promote mobile-first payments. 
How much does it cost? It will set you back the same as PayPal and Stripe with a $0.30 transaction fee and 2.9% fee each time someone uses it. It's only applicable, however, after you have hit $50,000 through the processor. 
Most of our clients like to use a mix of all 3, so that way all payment methods are covered ensuring your customers are happy and can pay any way they want.
How Much Will The Website Design Cost?
$-$$$
Naturally, you want your membership site to stand out from the crowd, which is where a website designer can come in. 
Although the plugin will affect the layout and look of the site, you also need someone on hand to create an extraordinary overall website design from the get-go.
Of course, if you're creating your website through WordPress on your own, there are budget-friendly ways that you can change the design. Firstly, you can choose a free or cheap theme. Although this is fine at first, you might want to upgrade this as time goes on. They can also be limited in terms of the number of pages you're allowed and the layouts. 
If you're sticking to a budget, as well as WordPress, you could use a page-builder tool such as Beaver Builder. This could Help you to create custom layouts; it's an easy tool to use. Similarly, you could utilise a purpose-built tool designed specifically for membership sites such as Memberoni – but you will need to be a member of the Membership Academy to access this. 
WordPress Themes: Free unless otherwise stated.
Page-builder tools: Beaver Builder/Memberoni or similar – between $100-$250 per year.
Alternatively, you could hire a web designer. Of course, the price that they will charge will depend on several factors – including the amount of time that it takes them to create the website and their hourly rate. Typically, this can cost anywhere from $2000 – $10,000 depending on the complexity of the site. If you want an agency to create it, you're looking at around $2,000-$50,000 depending on what they usually charge clients. 
If you're looking for a web designer take a look at this blog post we uploaded earlier in the year:
8 Crucial things to look for when hiring someone to build your membership website.
What Features Will Your Membership Site Require?
$$
There are so many custom membership site options out there that it can be very daunting as to what to choose. To give you a kickstart, however, here are a few that you should consider implementing into it:
Multiple membership levels

(usually three levels): giving your customers the chance to choose a bespoke package that suits their requirements and budget. 

A well-designed interface and content.
Email notifications sent out frequently.
Discounts, trials and coupons.
How Much Will The Development Costs Be?
$$$$
The development costs will very much depend on whether you've opted to make the membership website yourself, chosen a freelancer or have hired an agency. To have a custom website built by either of the last two, it will cost you anywhere between $2,000 and $50,000. 
Getting a custom membership sites cost
This will include the set-up, acquiring a domain and hosting, plugins, content creation, and maintaining it across its lifetime. 
Do you know if your membership website actually needs a course? Click here to view another post that'll answer that question.
Your Time Costs
$-$$$$$
If you have chosen to create a custom membership site yourself, you will also want to think about how much it will cost you in terms of time. Building a website, and in particular, a membership website takes a lot of energy and skill. So you will want to measure your time in terms of how much you think it's worth.
How much would you charge your time out at? $20 an hour? $40 an hour? Or more? Even if you aren't a professional web designer or developer, this is something you will want to consider. 
Why? Because the time that you're spending on creating the website might be time that you would have spent working – and therefore, you will be losing out on money. 
Take the number of hours that you've been working on it and multiply it by how much you are 'worth' per hour. 
This will give you a better indication of the cost of the website. 
Conclusion
There's no denying that having a WordPress custom membership site can cost a little more than you're average self-hosted membership.
Custom membership sites are great for customization and are even better when they come with a drag & drop builder that is simple to use.
If you are currently running a business or have a busy full-time job, then creating a custom-built membership website yourself might simply not be on the cards. 
This is perhaps the key reason why so many businesses who want to create a membership site turn towards outsourcing to agencies or developers – to save time while having the peace of mind that they are getting a quality end product.