Gumption Coaching coaches young athletes in mindset training. Makenna, the owner of Gumption coaching, believes the sport of gymnastics, coupled with powerful mindset tools, is the perfect platform for growth, achievement and fun!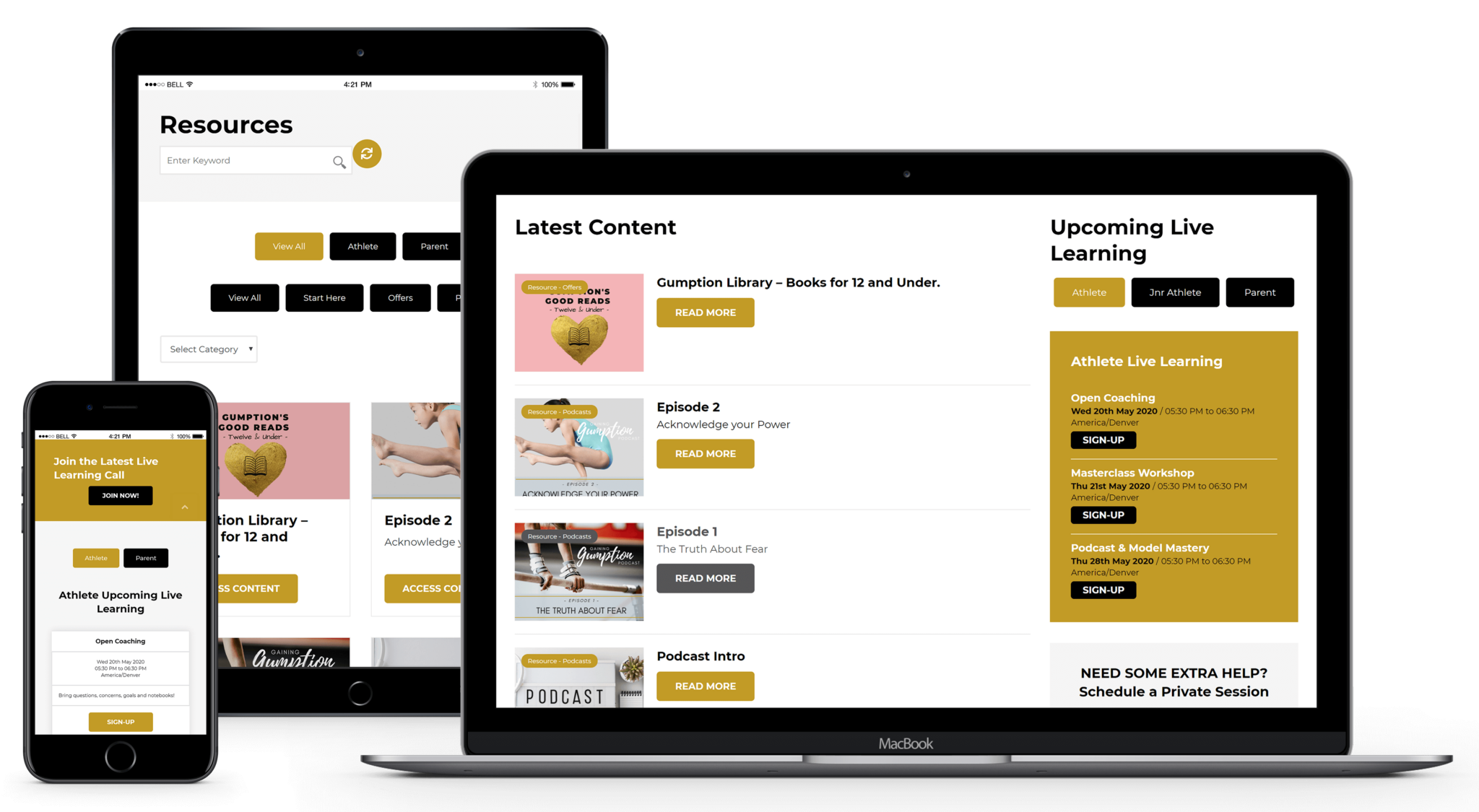 We produced a clean yet user-friendly design with a critical focus on smooth navigation, simplicity and extra content filtering.
Advanced access conditions allow different content to appear depending whos logged in. Each part of the site has separate tabs for parents, teens and juniors, making sure all content is appropriate for who is viewing it.We used our MemberLab framework for the core areas of the membership site.
We also built in multiple web forms for welcoming new members, requesting feedback on courses and content as well as to ask anonymous questions on the 'Ask Makenna' Section of the membership website. Which allows the owner to publish her answers to the questions below, boosting member engagement.
Gumption now has a light but functional website with the user in mind. The way users navigate the website is smooth and simple. Gumptions membership website features advanced content filtering to ensure members can find exactly what they're looking for.
Gumption coaching's membership website covers virtual training, Live Learning, Group coaching calls, Session replays, Course quizzes and worksheets, discounts on different brands and stand-alone content for parents.
Gumption Coaching wanted their website to be as accessible as possible, we used two different payment methods as well as included different tabs for each type of member that accesses the website.
We used our MemberLab framework for the core areas of the membership site.
Mckenna, the owner of Gumption Coaching regularly releases a podcast called 'Gaining Gumption' It was important that podcasts were integrated with the membership website. Mckenna purchased our podcast addon and now her members can listen without leaving the site, everytime a podcast is uploaded it's automatically added.
The membership sales and content access are powered by Memberpress, allowing the creation of multiple memberships and team memberships in various currencies across the world.
We also connected the site to ActiveCampaign CRM to ensure members are correctly segmented. Hence, children and parents get the correct communications
Makenna was a joy to work with, and we are delighted with the way the site turned out, and we're sure it will be a great success!
Website Design

Website Development

Podcast

Live Calls

Sub Accounts

CRM Integration
Wordpress

Memberpress

ActiveCampaign
Are you ready to create your membership site?
Book your no-obligation demo call today to start your journey to building a recurring and scalable online business​