If you want to be FAST, YOU NEED TO BE STRONG. Unlock your hidden speed. Discover the only online customised strength training resource for cyclists. More Pro & World Tour Cyclists are lifting heavy year round. Join the cycling coach today.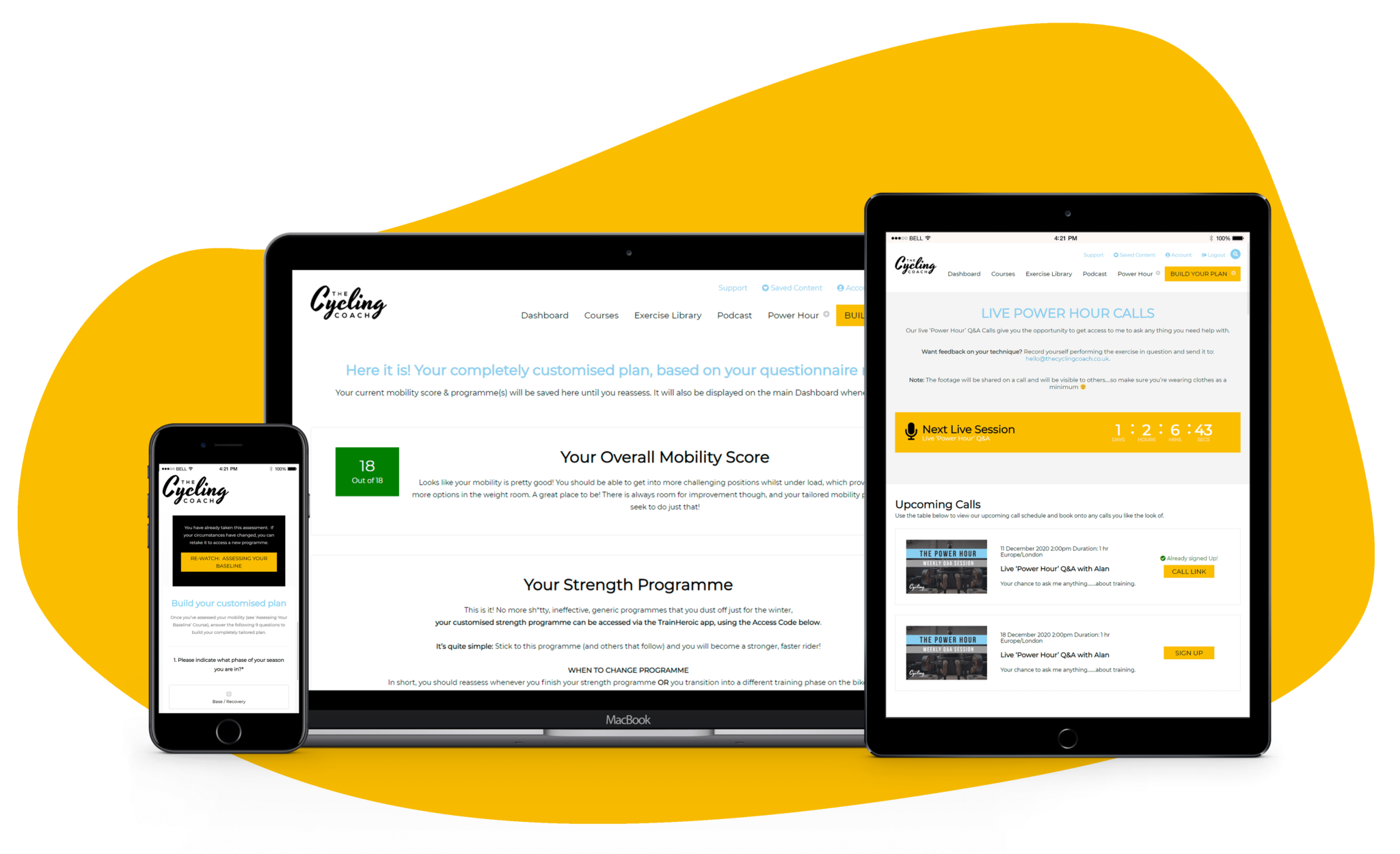 The Cycling Coach is a strength & conditioning coach by trade. He is also a British Cycling coach and a very passionate cyclist. He's extremely passionate about cyclists gaining access to the right information about training, providing them with the knowledge and tools to make their own training decisions – rather than being led by bias and misinformation
The Cycling Coach approached MemberLab after seeing our prices. He couldn't quite believe what he was seeing so we showed him. He was amazed and wanted his new membership website and design done and developed by us.
As a team who love keeping healthy, fit and active we couldn't wait to get started.
The new membership needed to contain, courses, resources (Training videos), live learnings and podcasts. The site owner also wanted a launch quiz to be included and a free trail was a must.
The membership needed multiple levels to build a fully thought out marketing funnel.
We provided a light, modern and sleek membership website that allows The Cycling Coach to teach one to many rather than one to one.
The way the site is built means that The Cycling Coach could scale his business infinitely if he wished, futureproofing his business and cementing him as an expert in his field.
A Quiz with dynamic results (over 107) and course content based on results. Results will be shown on a dynamic roadmap depending on quiz results. 
Our membership websites come with LearnDashLMS as standard, which makes it easy to create prerequisites courses at the click of a button. This allows The Cycling Coach to easily update courses or create new ones. We also developed custom post types and advanced filtering to help break down the material into the relevant sections.
Membership Website Development

Membership Website Design

Quiz

Resources

Courses

Live Learnings

Payment Gateway Integration
LearnDash LMS

Live Learnings - MemberLab

Podcasts - MemberLab

Resources - MemberLab

Quiz - MemberLab

MemberPress

Elementor
Are you ready to create your membership site?
Book your no-obligation demo call today to start your journey to building a recurring and scalable online business​